Get your groove on this May
We have some fantastic opportunities this May for you to get involved in. We're kicking off the season with some fantastic courses at Band on the Wall (starting NEXT WEEK) and an exciting weekend of Samba Reggae, Hip Hop and Funk to get your teeth into. We also have some updates from where we are based at The Vale in Tameside.
All of the following opportunities are suitable for all experience levels.
Brazilian Timbau technique and solo playing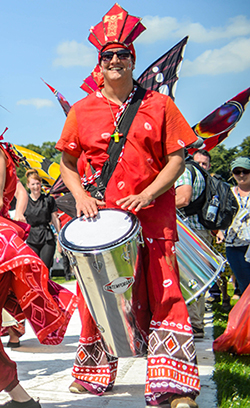 Starts next Wednesday
Dates: May 6th, 13th, 20th, June 3rd, 10th
Times: 7pm – 9pm
Where: Band on the Wall, 25 Swan Street, The Northern Quarter, Manchester M4 5JZ
Cost: £40 or £10 pay per session
Brush up your timbau skills this summer with this new Timbau technique course from Global Grooves.
Lead by Leon Patel, participants will study basic and advanced techniques, common rhythms and grooves, solo phrasing and how to devise and build your own Timbau breaks in groups. By the end of the five weeks we will have developed several rhythms and unison solo phrasing as well as increased our stamina and technique.
The course is designed for beginners to advanced participants.
If you have never played the Timbau before then some hand drumming experience is necessary and will suite those who have played instruments such as Conga, and Djembe.
Some instruments can be provided but participants are encouraged to bring their own if they have them.
***Warning – Timbau playing is not for the faint hearted!***
A short course in Pandeiro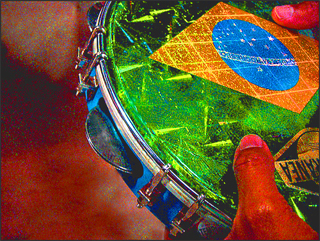 Dates: June 17th, 24th, July 1st, 8th, 15th
Times: 7pm – 9pm
Where: Band on the Wall, 25 Swan Street, The Northern Quarter, Manchester M4 5JZ
Cost: £40 or £10 pay per session
Global Grooves is proud to announce its second short course in the pandeiro. Following several requests from our participants we have developed a short modular study of the pandeiro designed to give you an introduction to playing the instrument and put several styles under your belt to help you play along in your performance groups and ensembles.
Delivered by the Global Grooves core team (Leon Patel, Eraldo De Sa Marques and Holly Prest) this course will help you to develop pandeiro techniques in an fun, friendly and supportive environment.
This course is suitable for complete beginners to intermediate players.
We will focus on key styles including Capoeira, Samba, Coco, Funk and contemporary styles as well as tips and simple juggling tricks to spice up your playing. We will also explore how the pandeiro can be used with amplification and mics to create the sound of the whole Bateria in the palm of your hand.
Some instruments can be provided but participants are encouraged to bring their own if they have them
***Caution – Pandeiro playing is highly addictive!***
Seriously funky fundraiser percussion weekender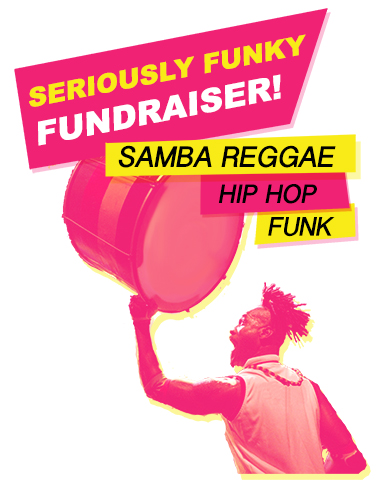 Saturday 16th & Sunday 17th May
Samba reggae, hip hop and funk
We have a weekend of events in May for you to get involved in as part of a Global Grooves fundraiser. All of the proceeds of these workshops and classes will be going towards the completion of our new Arts Centre in Mossley, Greater Manchester, due to open to the public in summer 2015.
Whether you have always wanted to hit a drum but never done so, are a dancer wanting to give drumming a go, or a seasoned player, this weekend is suited for everyone.
Global Grooves is a registered charity focussed on delivering high-quality specialist training for the community in inspirational international performance arts from around the globe.
We would love your support in this fantastic new resource as well as offer you the chance to learn some great new skills. Everybody wins!
We have built up a wonderful network of people that have been coming to our events and supporting us over the years; the growth of this network has given us the inspiration and courage to think big, and for this we would like to thank you with some very affordable training opportunities.
The Vale Music Ensemble
The Vale Music Ensemble is a project for 50 11-18 year olds to form a youth mega band consisting of brass & sax, steel pan, backline band, choir and Afro-Brazilian percussion, from our sister company Bangdrum CIC.
We had our first full session on Saturday 18th and it was an incredible sound these young people created in just one afternoon after meeting for the first time!
If you know any young people that would be interested in this project, please share the link below. We are looking for young singers and brass & sax players in particular. The steel pan section is currently full.
The sessions take place weekly (full dates on the website) from now until the end of June here at The Vale in Mossley, Greater Manchester. This project leads to a professional recording and a gig at Band on the Wall in Manchester City Centre, which will be part of a day celebrating music made by young people in Manchester.
To find out more about this exciting project, please visit www.vale-music.co.uk