Sometimes screen time during lockdown 2020/21 can lead to a little bit of magic –  let's explain.
We received a message from Mossley resident Nicola Kitchin who'd seen an item for sale online that might be helpful for our heritage work. It certainly was! After some anxious haggling we secured an entry 'extracted' (a shame we know) from 'The Empire Register of Bona-Fide British Manufacturers of Woollens and Worsteds; also Spinners' (No date) page No.294, shown above.
George Lawton and Sons Ltd manufactured fancy flannels and other goods in Vale Mill for almost 100 years from 1848 until 1930s. Historical press reports show that Messrs. Lawton were awarded for their high quality goods, so good according to local memory it was fit for a Queen and used to make, Queen Vic's Knicks. Some of the awards are captured in the coin images on the page, – more about this in other stories to follow.
If we look at the page above, under 'George' on the left hand side, there's a stamp image which shows a patent granted in 1867, during Queen Victoria's reign. We hadn't come across anything suggesting a patent until now so this was very exciting for us. We approached the British Library research team, who found a patent record for July 1862,  No. 386.  See below for extract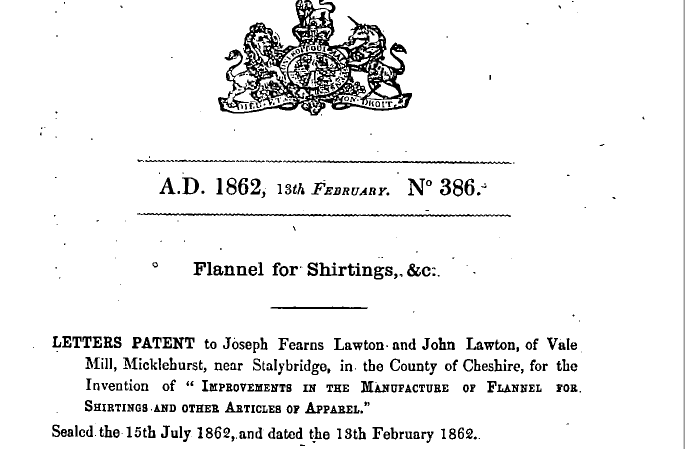 The patent was granted to sons of George Lawton , Joseph Fearns Lawton and John Lawton managers of Vale Mill, Micklehurst, for 'Improvements in the manufacture of flannel for shirtings and other articles of apparel'.
The improvements detailed were to combine wool and silk which would give increased strength and durability to the fabric. This would mean the flannel would have reduced shrinkage when washed (compared to the previous practice of all wool content) and provide enhanced colour.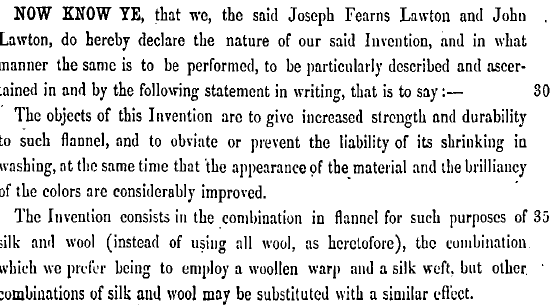 Joseph and John Lawton go on to state that any practical weaver would see the obvious benefits of this combination for design and effect and possibility of weaves.
It appears then that Vale Mill produced award winning quality textiles and were also innovators in their industry. We're still waiting to see if we can solve the puzzle of the five years between the patent record found in 1862 and image stamp of 1867 and if this is resolved we'll update here.
One hundred and fifty years later artists at The Vale continue to use silk and wool in their creations. I wonder what our predecessors would think…
Sources:
Haynes I ( 1996) Mossley Textile Mills
With thanks to British Library IP dept.
This story continues on Judge Lawton: Winning Woolies
To read more about Cotton Culture, our Heritage Lottery Funded Project, head to our Heritage page